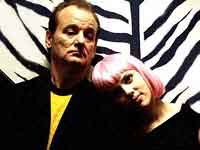 Lost In Translation
The first night back in New York I stayed up watching Sofia Coppola's
Lost In Translation
in my
screening room
. While I had greatly admired this movie before going to Tokyo, the alienation it depicted now seemed less to proceed from a communication gap in Japan than from a career anxiety disorder (CAD) in Hollywood. Its hero Bob Harris (Bill Murray) is a waning movie star, who, like other has-been Hollywood people, uses what remains of his celebrity recognition to promotes Japanese booze. The arc of his character begins with him arriving in a limo in Tokyo and ends, after an appearance on a humiliating TV program, with him back in the limo returning to Hollywood. The unemployed girl he meets at the bar (Scarlett Johannson) is also a CAD case. She is married to a Hollywood photographer who is much more interested in some Cameron Diaz-type celebrity than he is in her. If these two CADs weren't both jet-lagged in the Park Hyatt in Tokyo, they presumably would be just as angst-ridden about their failing status in Los Angeles. So what does Japan have to do with the movie, other than the laugh-getting jokes in the movie mock the Japanese command of English (e.g. A Japanese prostitute mispronounces "L" for "R" when she says "Rip my stockings) or height stereotype.
My recent Tokyo experience at the Grand Hyatt couldn't have been more different than of those lost-in-translation characters. When, for example, I casually asked a tall desk clerk about the stone used in the hotel's lobby, she answered in perfect English "I don't know but will find out." When I returned to my room later that night there was a two-page message under the door. It began: "We would like to inform you that the wall you inquired about is made of Granite imported from the U.S. Its actual name is Rocky Mountain Quartz Site. The importer in Japan is Timex (03-3776-8310) and the US brand is DNG" and went to lucidly describe the qualities of this particular stone as if some Shinto spirit resided in it. I found the same precision with words when I interviewed executives at Sony, Toshiba and Forma for my book. If they did not know an answer, they said so, and then emailed a lucid answer to me.
This morning my editor, Bob Loomis, said I could put a
sample chapter
of my coming book,
The Big Picture
, on my web site. Why not?