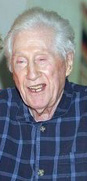 W. Mark Felt
B
ob Woodward interviewed Mark Felt on Tuesday February 27, 2000 to test the memory of his legendary source on Watergate. In his own book, Woodward had Deep Throat meeting him in an underground garage, inserting coded signals in Woodward's
New York Times
, drinking with him in a bar, etc. Here is precisely how Felt remembered these events.
(
Audiotape
, February 27, 2000)
MR. WOODWARD: You remembered the Nixon period a little bit.
MR. MARK FELT: Vaguely but I still don't have any specific recollections
from it.
MR. WOODWARD: Remember back in those years when we met and chatted? And
any...
MR. FELT: Well, I think I remembered the area and a time, but I don't
remember specifically anything.
(End audiotape)
Here was the perfect candidate for Deep Throat